'Slight rise' in NI house prices, says Nationwide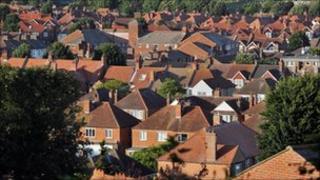 Northern Ireland property prices rose 1.6% during the past three months, the Nationwide building society has said.
It said NI was "surprisingly" the best-performing region in its survey, but the trend was still falling prices.
The 1.6% rise was not enough to offset previous falls, it said, "so the annual rate of house price falls actually accelerated from 5.2% to 11.1%".
Northern Ireland was the only region in its survey where housing market activity had declined in the past year.
In London, the number of house purchase loans rose 42% year-on-year, but Northern Ireland saw a 2% fall.
It said Belfast was the strongest area of Northern Ireland's housing market, with prices down 4% year-on-year.