Boston Bruins arrive to take on the Belfast Giants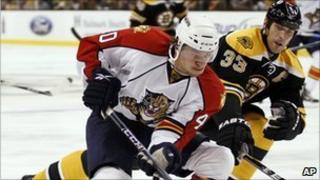 Just hours after touching down in Belfast the Boston Bruins were out on the ice.
The NHL ice hockey team have arrived in Northern Ireland for a challenge match against the Belfast Giants selects side on Saturday.
The Bruins will face a squad made up of players from the Giants and the other Elite League clubs.
The Bruins are one of the most famous hockey teams in the NHL and one of the league's original six teams, officially forming in 1924.
Boston have won five Stanley Cups in their team history and last season, the Bruins made it to the semi-finals of the Stanley Cup play-offs, eventually bowing out to the Philadelphia Flyers in the final match of their seven-game series.
Giants general manager Todd Kelman said: "This is a big day for the Giants and a big day for the entire league."
Bruins president Cam Neeley said the team was excited to be able to bring NHL hockey to Belfast.
He said he would welcome the game leading to further links between Northern Irish and American ice hockey.
"If some other things come of it, which I'm sure the league is hoping will happen, from my perspective and for the Bruins it would be nice," he said.
Best hockey
The Bruin's star player Slovakian Zdeno Chara said the game with the Giant's was an important part of the team's preparations for the coming season.
"We don't take it lightly, we know the other team we will be playing their best hockey.
"We have only two games left before the regular season opens, so for sure we want to play our game," he said.
Bruins forward Shawn Thornton told the Boston Herald: "It'll be awesome. My mom is from Belfast. I'm excited about this. I've been talking about it since we first heard about it."
The Odyssey Arena game coincides with Invest NI hosting a number of potential inward investors from the US.
The Northern Ireland Tourist Board has awarded the Belfast Giants £75,000 of funding towards the costs of holding the event.
The expected return on the investment is almost £5 for every pound of public money invested and it is hoped the visit could generate up to £800,00 for the local economy..
After the game in Belfast, the Bruins will head to Prague for two exhibition games in the Czech capital.