Body to review aspects of Donagh sex abuse case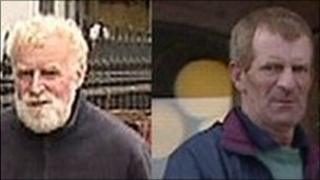 The independent body which is responsible for monitoring and inspecting health and social care in Northern Ireland is to review aspects of the Donagh child sex abuse case.
The health minister told an Assembly committee meeting that he has asked for the case to be looked at "as a matter of urgency".
Michael McGimpsey said he expects an interim report within four weeks.
Controversy surrounded the release of two brothers back into the community.
Addressing a joint health and justice committee meeting at Stormont on Thursday, the health minister revealed that he had asked the Regulation and Quality Improvement Authority (RQIA) to carry out a review of certain aspects of the Donagh sex abuse case.
Mr McGimpsey said terms of reference are currently being drawn up, which will include looking at the Western Trust's role in the case.
Members of the health and justice committees have insisted that the RQIA should have access to any case review papers.
While the health minister agreed that should happen, he insisted their remit was not about reviewing how the judge had reached his verdict.
In June, James and Owen Roe McDermott were allowed to return to live in the County Fermanagh village where the abuse had been carried out between 1969 and 2002.
The following month, both men admitted themselves to hospital for treatment, after victims and residents in Donagh objected to their return.
Another brother, John Michael McDermott, 60, has been jailed for nine years for his part in the abuse.
A fourth brother, Peter Paul McDermott, 62, took his own life after the start of the trial in May.
On Tuesday, Mr McGimpsey made the formal apology for an error he made while answering questions about the Donagh child sex abuse case.
He wrongly told MLAs that a doctor who gave evidence in the court case was not a health service employee.
Mr McGimpsey said it had been a genuine mistake for which he took full responsibility.