Nama takes over £3.3bn in Northern Ireland loans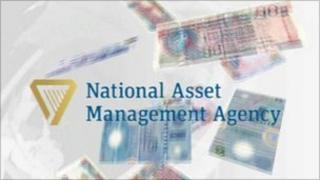 The Irish government's 'bad bank' has warned NI landowners and developers that what was once viewed as hugely valuable land is now almost worthless.
Peter Stewart, from the National Asset Management Agency (Nama) said the ending of a false property boom was going to cause "financial pain".
Nama was set up by the Irish government in response to the property and banking crisis.
It is set to take over £3.5bn in Northern Ireland loans.
Mr Stewart, the head of Nama's advisory committee on Northern Ireland, said on Wednesday it was likely some of it would be sold back as farm land.
He said Northern Ireland had experienced a property bubble in undeveloped land and investment properties like office blocks.
Mr Stewart said estimates suggest that the normal market for land sales in NI was about £100m in the years 2000 to 2005. But that spiked to £750m in the years 2006 and 2007.
Almost £3.5bn of loans secured by Nama are from assets in Northern Ireland.
"Of the £3.35 bn, 10% approximately is in assets in the course of development in other words uncompleted housing estates for the most part," Mr Stewart said.
"This is tiny compared to what we are looking at in the south of Ireland."
But he added: "There will have to be sales and the only key drive is liquidity in the market. Liquidity in the NI market is going to be difficult. But if land that did have development potential has to go back to be sold as farm land, then it will be sold as farm land, that has to happen."
Mr Stewart said that while Nama did not have to sell "today, this month or this year", it did have to operate to a ten-year time scale.
"Even over such a period of time it is likely that we will see what was previously viewed as potential development land being sold to go back to farmland," he said.
"For those builders, developers and also land traders and speculators who got caught up in the frenzy, unfortunately there is going to be financial pain."
He added: "Throughout the world there have been different forms and shapes of property bubbles and Northern Ireland has had its own bubble in terms of undeveloped land.
"This bubble is well and truly burst and I imagine this will be reflected in the values of the loans to be acquired by Nama.
"For those who purchased during this market madness I can only say that, to my mind, there is no likelihood of a market recovery to the earlier peaks, in the foreseeable future."
In May, it was revealed that up to 150 developers and investors from Northern Ireland were likely to find their loans transferred into Nama.
The National Asset Management Agency was set up to buy and manage mainly bad property loans held by Dublin-based financial institutions.
Its aim is to remove bad or impaired assets from the banks' balance sheets, allowing them to rebuild their financial strength.
Ultimately that will allow them to start lending again and get credit flowing to businesses and home buyers.
It is also hoped that it will protect or enhance the Irish Republic's international credit rating.
There had originally been fears that Nama could hold a "fire sale" of Northern Ireland assets but the Irish Republic's finance minister has assured that will not happen.