£1.86m project for people with sight and hearing impairment launches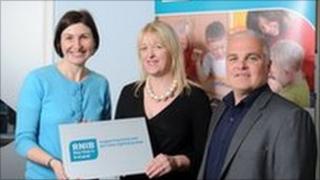 An innovative £1.86m cross-border project to improve the lives of people with sight and hearing difficulties was launched in Londonderry on Wednesday.
The 'sensory engagement programme' brings together four of the largest organisations providing support services for deaf and blind people across Northern Ireland and the Republic of Ireland.
Over 300 people with sensory impairment will benefit from a specially designed 'active citizenship' programme.
Over the next three years, the programme will deliver basic IT training and a confidence building course.
The project is being spearheaded by the Royal National Institute of Blind people Northern Ireland (RNIB NI) in partnership with the Royal National Institute of Deaf people (RNID), the National Council for the Blind of Ireland (NCBI) and 'DeafHear', a registered charity looking after the needs of deaf people and their families.
The intiative was funded by the Special EU Programmes Body's INTERREG IVA programme which has been designed to promote cross-border co-operation in the exchange of expertise and information.
Additionally, over 600 staff in further education colleges, libraries and banks will receive sensory awareness training to improve services for people with sight and hearing impairment.
Alice Lewis, project manager of the sensory engagement programme, said: "Ultimately this will improve access to essential services for people with sensory impairments to ensure that their unique needs are met".
She said the project will have a "significant and long-term impact" on the lives of people on both sides of the border.