Belfast City Council considers 'natural burial' plot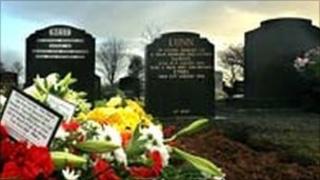 Belfast City Council could pave the way for "natural burials" at Roselawn cemetery as part of a review of burial provision in the city.
"Natural" or "woodland" burials require the body to be interred unembalmed in a biodegradable coffin.
The plot is marked by a native tree and over time becomes part of a woodland, managed for the benefit of wildlife.
Council officials have already had discussions with the association which promotes such burials.
It follows the recommendation of a working group set up to examine cemetery provision.
Pressure on burial space has recently been eased by the acquisition of land adjacent to Roselawn and a growth in the number of people being cremated.
The new extension to Roselawn would be the location of the natural burial site.
A report by the working group describes natural burials as "the deceased returning to the earth to recycle naturally in an environmentally sustainable way".
The graves are designated with a wooden marker and no other memorial is permitted.
Flowers are acceptable but without wrappings and not as an arrangement.
The first natural burial ground in the UK opened in 1993 and there are now 250 across the country, although none yet in Northern Ireland.
In August, planning permission was granted for the first such site in the Irish Republic, near Killane in County Wexford.
Environmental concerns
The option of a woodland burial is promoted by the Association of Natural Burial Grounds.
Its spokesperson Rosie Inman-Cook said that members had reported a 30% annual increase in the number of people opting for natural burial.
She said most of them were motivated by environmental concerns.
She added that embalming fluid used in conventional burials contained "litres of toxic fluid" while cremation released a significant amount of carcinogens into the atmosphere.
"I am really delighted by this news as we have been getting so many calls from people in Northern Ireland saying that they would like to be buried like this and until now we have had to tell them that there is nothing for them."
The working group has also earmarked two sites at Dundrod as possible sites for a new cemetery.
Until now, the Council had been focused on two other sites, Lisleen near Roselawn in the east of the city and Nutts Corner between Lisburn and the international airport.
However, an interim report found that the majority of the site at Nutts Corner was unsuitable for development.