Rapist returned to prison 'not rehabilitated'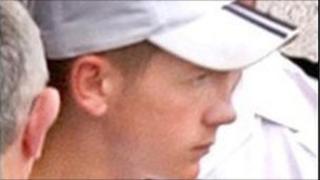 The mother of one of three teenage boys who were forced to watch a 15-year-old schoolgirl being raped has said she does not believe her attacker has been rehabilitated.
Michael Quinn, was jailed in 2007 for the attack but was released in August 2009.
He was jailed for two years on Tuesday after being found guilty of attempting to break into a house in south Belfast.
He also admitted breaching a Sexual Offences Prevention Order (SOPO).
Quinn was originally jailed for a sexual assault at a garage forecourt on west Belfast's Black's Road in June 2007 while his cousin 20-year-old Terry McKenna, armed with an iron bar, held the victim's three terrified young male friends against their will.
He raped the schoolgirl a second time on a nearby golf course after forcing her to climb the gates of the club.
He was sentenced to eight years after he pleaded guilty to two counts of rape, one of indecent assault and four counts of false imprisonment.
Elaine Captain's teenage son witnessed the attack along with two other friends.
"We felt the sentencing at the time was far too lenient, in terms of how much time Quinn was going to actually serve," she said.
"We knew the trauma and we had experienced a lot of trauma as a result of Quinn's actions at the time.
"We were very fearful about what the future would hold for future potential victims of Quinn if he hadn't got any rehabilitation and it seems now because he has re offended, clearly he has not been rehabilitated.
"He hasn't taken responsibility for his actions," she added.
Mrs Captain said the ordeal the teenagers had endured had been "horrific and shocking".
"A 15-year-old should never have to experience what those children experienced at the time, at the hands of Quinn and his accomplice.
"I'm very happy to say that my son has moved on, in fact I would be very distressed if I thought my son was in any way held back or caught up in any thoughts of Quinn, since those events.
"I don't believe that he is wasting his time or his life giving Quinn anymore thought."