Swire makes plans for Parades Commission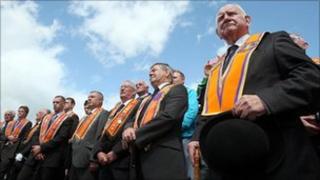 The Minister of State for Northern Ireland, Hugo Swire, has confirmed he will now make arrangements for the continuation of the Parades Commission.
He said it was "disappointing" there was no agreement yet on the proposals "for a new framework for parading".
In July, the Orange Order rejected the proposed legislation to deal with contentious parades.
Peter Robinson said its refusal to reconsider its decision meant the Parades Bill had to be delayed.
Mr Swire said on Tuesday there was "no alternative but to press on with making new appointments to the Parades Commission in time for next year's marching season".
"I hope that all interested parties will continue to engage on this important issue to achieve an outcome which has broad support across the community," he added.
"The violence that we witnessed on 12 July this year is not a true reflection of the considerable progress that has been made in Northern Ireland or of the many thousands of peaceful parades that take place each year.
"At a time when we are working hard to encourage investment in Northern Ireland, there is a responsibility on everyone to help ensure that such scenes, which seriously damage the international image of Northern Ireland, cannot happen again."
Meanwhile, the Ulster Unionist Party leader Tom Elliott has written to the Grand Master of the Orange Order following remarks made by two members of the DUP on Monday.
Speaking on the BBC after the shelving of the new draft Parades Bill, Simon Hamilton claimed the DUP had negotiated with the "full knowledge and agreement" of the Orange Order while Jeffrey Donaldson said they had followed the "remit" given to them by the loyal institutions.
Mr Elliott wants Robert Saulters to clarify if that was the case.
The Strangford UUP MLA, David McNarry said the DUP claims needed to be challenged.
"As far as the grand lodge is concerned it has been brought into the political arena where it didn't want to be," he said.
The draft legislation, which focused on dialogue and a code of conduct for both residents and marchers, emerged following February talks at Hillsborough Castle to resolve a political impasse between the DUP and Sinn Fein.
DUP leader Peter Robinson had said he was "disappointed by the outcome as considerable effort was made at Hillsborough to solve the issues around parades and protests".
The first minister said a "new and improved framework" had been worked out, "based on specifications outlined by the Orange Order".
The proposals contained in the Draft Public Assemblies Bill had been agreed by the DUP and Sinn Fein.
They were rejected by 37 votes to 32 by members of the Grand Lodge of Ireland in July.