A touch of Clinton stardust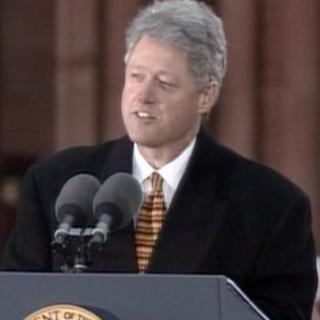 The arrival of former US President Bill Clinton in Londonderry this week will bring back memories of the day he first brought a touch of stardust to the Northern Ireland peace process.
It was a chilly Thursday afternoon in November 1995, and Clinton arrived in Derry city centre in a blaze of black limousines, American flags and high-pitched cheers.
The atmosphere was more akin to a pop concert than a political rally.
In an instant, the image of the peace process was temporarily transformed.
Instead of grey politicians in grey suits standing outside grey buildings with grey expressions on their faces, suddenly there was a dash of colour.
Clinton took one look at the huge crowd and explained why he was there.
"I came here because you are making a home for peace to flourish and endure," he said, to huge applause from the crowd in Guildhall Square.
It was the year after the IRA and loyalist ceasefires.
People were worried that the peace was not permanent.
'Affinity'
Clinton came to encourage Catholics and Protestants to look forward, not back; to celebrate how far the peace process had moved forward, rather than become obsessed with how far it still had to go.
So why is he coming back to Derry?
After all, he is no longer the American president, and there is no indication yet that he has anything spectacularly new to say, or to announce.
The cynical view is that the trip is sport-related.
His arrival in the UK will be just in time for the start of the Ryder Cup - quite a coincidence for the well-known golf fanatic.
Although he may end up in Wales this weekend to watch Tiger Woods and his American team-mates try to retain the trans-Atlantic trophy, there are personal, political and economic reasons behind his visit.
The main one is that he - and his wife, Hillary - have an affinity for Ireland, north and south.
Mr Clinton was at Oxford University in the late 1960s as the troubles were breaking out in Belfast and that seemed to make a lasting impression on him.
He found time to come to Northern Ireland on three occasions while he was President. He and his wife have been back since.
Mrs Clinton visited Stormont last year in her role as US Secretary of State, and she is organising an investment conference in Washington next month to help Northern Ireland.
Bill Clinton's trip to Derry this week will help promote the conference.
'Political hero'
The timing could hardly be better. With unemployment rising and major government cutbacks looming, the Northern Ireland economy needs all the help it can get.
Mr Clinton is expected to use his time in Derry to meet his oldest friend in Irish politics, the former SDLP leader John Hume.
Now 73 years of age, Mr Hume has stepped out of the political limelight in recent years. However, to Bill Clinton he will always be a political hero.
Back on that cold November Thursday in Derry in 1995, he described him as "Ireland's most tireless champion for civil rights and its most eloquent voice of non-violence".
When Mr Clinton returned to Derry in the summer of 2003 to deliver a lecture at the Magee campus of the University of Ulster, Hume demonstrated that politics was the art of the possible.
When the time arrived for the lecture, the former president was still involved in private meetings in another part of the building.
'Embarrassment and awe'
To try to speed things up, Mr Hume tried to get into the room but the American security staff, who clearly had not read their history books, did not recognise the Nobel peace prize winner.
Undeterred, Mr Hume promptly found another way into the room that no-one else had spotted.
The Americans looked on with a mixture of embarrassment and awe.
Mr Clinton is likely to use this week's trip to re-iterate his admiration for Mr Hume.
He will visit Dublin as well as Derry for a series of engagements.
The former US President has just turned 64, and no longer has the same stardust he enjoyed back in 1995.
His trip to the UK and Ireland is likely to be relatively low-key compared to previous visits.
Unless, of course, he decides to swing past the Ryder Cup on his way home.