Health minister apologises for Donagh abuse case error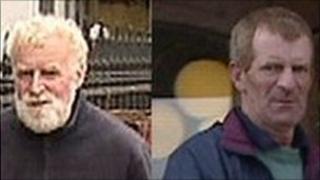 The health minister has formally apologised to the Assembly for an error he made while answering questions about the Donagh child sex abuse case.
He wrongly told MLAs that a doctor who gave evidence in the court case was not a health service employee.
Mr McGimpsey said it had been a genuine mistake for which he took full responsibility.
He said he had wanted to make the statement on Monday but had to delay it because he was waiting on legal advice.
Mr McGimpsey's failure to show up on Monday to formally apologise for misleading the Assembly had been met with an angry response from the DUP's Arlene Foster.
Mrs Foster said it had set "an extremely dangerous precedent so that ministers can pick and choose when they come to this House".
'Complex issues'
However, Mr McGimpsey told MLAS on Tuesday: "I very much wanted to make this statement yesterday.
"However, I was awaiting legal advice around some of the very complex issues involved in this tragic case."
He said that having answered Mrs Foster's urgent question on 21 September, he had subsequently learned the doctor was a health trust employee.
He apologised to the Speaker Willam Hay and to the Assembly for the mistake.
Mr Hay had earlier asked MLAs to listen to Mr McGimpsey "in silence".
He reminded the Assembly that a minister's personal statement was "not a debate" and that no questions or points of order would be allowed.
'Controversy'
Last week, the DUP called for the health minister to resign over the incorrect information he had given to the Assembly.
Paul Givan from the party accused Mr McGimpsey of "not being fully across the facts" of the high profile case and of being "arrogant and dismissive" towards MLAs who wanted answers.
Controversy has surounded how the authorities dealt with two brothers who were deemed mentally unfit to stand trial for sexually abusing children.
In June, James and Owen Roe McDermott were allowed to return to live in the County Fermanagh village where the abuse had been carried out between 1969 and 2002.
The following month, both men admitted themselves to hospital for treatment, after victims and residents in Donagh objected to their return.
Another brother, John Michael McDermott, 60, has been jailed for nine years for his part in the abuse.
A fourth brother, Peter Paul McDermott, 62, took his own life after the start of the trial in May.