Ryanair operating hand baggage only flights to Spain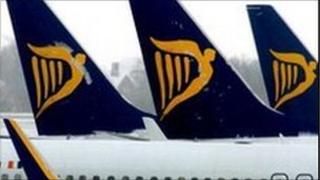 Ryanair said it will operate hand baggage only flights to and from Spain on Wednesday because of a 24-hour strike by Spanish workers.
The airline said about 70% of passengers due to travel would be unaffected as they did not have checked in luggage.
Passengers with checked in bags can change their booking to hand luggage.
Ryanair said they will get a refund on their luggage.
Stephen McNamara from Ryanair said they had tried to give affected passengers "options".
"What we're saying to people is that if you're due to travel on Wednesday and if you checked in before 1400 BST on Monday, we're asking you to recheck in and to travel with hand luggage only.
"Obviously we know for some passengers that simply won't be possible but for about 70% of our passengers, they were actually due to travel without any checked in bags.
"There may be some delays along the way.
"For those who had intended on travelling with a checked in bag, their options will be to get refund, to transfer their flight or to travel with only the hand lugggage option and get a refund of the amount they paid in relation to their baggage," he added.
Mr McNamara said passengers should check the airline's website.
"We're putting live flight information up on Wednesday, passengers just need to put in their flight number."
Mr McNamara said the strike in Spain may impact on some domestic flights.
"Some of these aircraft do operate in different sectors, for example, they might fly down to Spain in the morning and then back up to say, Dublin, then maybe up to Belfast in the afternoon."
The strike comes just a week after stoppages by their French counterparts.
The low cost carrier is calling on the European Commission to take urgent action to prevent more strikes and delays.