New killer tree disease outbreaks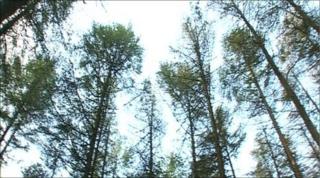 Three more woodlands in Northern Ireland have been confirmed as having the killer tree disease known as Sudden Oak Death.
It brings the total infected woodlands in this part of the UK to six. Five of those are on the Antrim plateau, north of Belfast.
The latest infections were confirmed in two Forestry Service woodlands, Bohill near Loughinisland, and Glenarm.
The third confirmed outbreak is in a private woodland near Carrickfergus.
The disease, which despite its name, does not attack oak trees, is thought to have been in woodlands in Northern Ireland as far back as 2007.
But the first confirmation was only made last month after a private woodland owner near Broughshane had his trees tested.
The main species to be attacked is Japanese larch.
The fungus-like disease causes new shoots and foliage to wilt and the tips of needles to turn yellow-brown.
Eventually the needles turn black and fall off after which the tree dies.
The main method of preventing further spread of the fungal spores is to fell all the larch in any infected woodland.
Before these new outbreaks were announced, the Forestry Service told the BBC that it could be next May before it could manage to fell all the existing larch in infected woods.
The service is urging all woodland owners to be vigilant for symptoms of the disease in Japanese larch and report any suspicious symptoms to them.