Belfast residents say vesting homes will lead to debt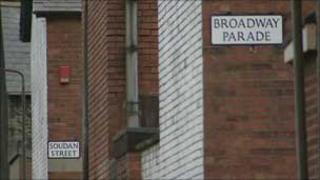 Some residents in the Village area of south Belfast have said they are being forced into debt after their homes were vested at a fraction of their original cost.
The Housing Executive said its hands were tied as it could only offer the market rate.
Some long-term residents said they had not been offered enough to buy alternative accommodation.
Chartered surveyor, Joe Allen, said those affected were not speculators.
Mr Allen said that many of the home-owners were young people who had struggled to get on the property ladder.
However, Robin Hawe of the Housing Executive said his organisation was tied by strict criteria laid down by the legislation in order to arrive at the compensation figure.
"It's made up of the market value of the property, then there are various grants known as home loss and disturbance, which is about 10% of the valuation, then there's a disturbance grant which is about £1,500 or £1,600," he said.
"While we have some sympathy for people who own their own property, and find their property losing value our hands are tied by what the legislation says."
The Village area in south Belfast is one of the most deprived in the city, with many houses which have no inside toilets.
In response to these conditions the Department of Social Development has earmarked 600 homes for demolition in a large-scale urban regeneration scheme.
They will be replaced by around 250 modern houses.