Bangor lifeboat crew's memorial gift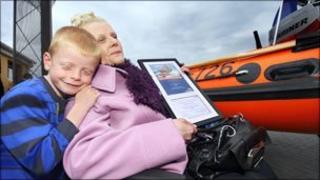 A volunteer lifeboat crew from Bangor have given a brand new lifeboat to colleagues in County Kerry in a gesture unparalleled in the RNLI's 186-year history.
They raised 39,000 euro to buy the craft in memory of husband and wife Bradley and Sonya Burns, who were both volunteers at the lifeboat station in Bangor.
The couple died within ten months of each other in 2006.
Their family, friends, and twenty-five members of the Bangor lifeboat crew travelled to the vessel's new home in Fenit at the weekend where it was officially named 'Bradley and Sonya'.
It is believed to be the first time a lifeboat crew in one station has raised funds to buy a boat for another.
Sonya Burns' sister Judy Connolly said she hoped the new boat would save many lives.
"Whilst we will never forget Bradley and Sonya it is some comfort to know their legacy lives on, doing what they did so well - working to save lives at sea.
"We are delighted this modern new lifeboat will make a real difference to the search and rescue capability in the Kerry area."
Lifeboat Operations Manager with the Fenit RNLI, Gerard O'Donnell, said the crew were extremely grateful for the generosity of their Bangor colleagues.
"This improved lifeboat will allow our volunteer crews to respond more quickly in emergencies and may well make the difference between life and death for someone in trouble in the water."