Rise of the machines: Robots meet the public in Derry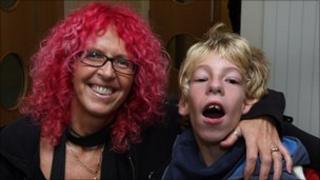 Londonderry came face to face with the future when the University of Ulster's Intelligent Systems Research Centre (ISRC) threw open its doors to the public for Discovery Day.
The centre is a world-class research institute pushing the boundaries of robotics, computational neuroscience, virtual learning and brain-computer interfaces.
And while Discovery Day offered a tantalizing glimpse of future technology, it also offered hope for people whose lives are limited by physical disabilities.
Sean Lawson is a 14-year-old from Belfast. Sean and his mum, Cath Lawson travelled to Derry especially for the Discovery Day.
When they got to a demonstration of brain-computer interface (BCI) technology, Sean got very excited.
It was not just excitement at seeing this device, which borders on the magical, at work.
It was excitement at the realisation that such technology had the potential to transform his life.
Overwhelming promise
Sean has cerebral palsy, a condition which denies him control over most of his motor skills and, among other things, prevents him from speaking.
Because of his condition, even the cheek-activated keyboard and speech synthesizer used by Stephen Hawking would not help.
In a nutshell, brain-computer interface technology reads brain waves from sensors on the scalp and converts the signals into instructions for a computer program.
Cath said that when they saw the BCI technology at work they found its promise overwhelming.
"It's an absolute miracle. If they can put this thing on my son's head to allow him to communicate through his brain waves it would open up his whole world," she said.
Dr Damien Coyle, lecturer and brain-computer interface expert with the ISRC warned that there was still work to be done before real-world applications were feasible.
"There are a number of issues that limit the application of BCI technology outside the lab which are currently being actively addressed at the ISRC" he said.
A large trial involving disabled individuals using BCIs is to be conducted at the National Rehabilitation Hospital in Dublin in 2011.
Cath said she was very keen for Sean to meet the brain-computer interface researchers again to explore how the technology can help him.
"For him to be able to say, this is what I want, this is what I don't want, it's incredible," she said.
At the most basic level the BCI device could allow him to give a simple yes or no response to questions. Further down the road the technology could allow him to drive an electric wheelchair using only his thoughts.
Fergus Begley, manager of EpiCentre, which provides technology support to local companies, said it was quite an emotional moment when Sean saw the BCI device.
"It gives him the hope of one day being able to communicate, of being able to drive an automated wheelchair," he said.
"It gives him the hope that something simple like answering the question 'do you want your dinner?' which is impossible for him now might one day be a reality."
Discovery Day
Peter Devine, business development manager for the ISRC, is one of the team behind Discovery Day.
He said one of the reasons for opening the centre up to the public was that although the ISRC is known all over the world and collaborates with universities in the US, Japan, India and China, local people probably have no idea what is right on their doorstep.
"We have a world class research centre and we felt we should shout about it locally," he said.
"Nothing like the open day had been tried before so the staff at the centre were not sure what to expect.
"We didn't know if we would get many people coming in, we might have gotten a trickle of visitors but instead we've had a large tsunami, a huge interest and people seem to be really enjoying it.
"Also we wanted to show that we're relevant. Research can be seen as something that won't affect people's lives for 20 or 30 years but we wanted to show that the research we do has practical applications now."
A well as the mind-reading BCI machine that offered hope to Sean the ISRC is working on a number of other technologies to help people live fuller lives.
Researchers at the centre are building robots smart enough to eventually act as home-helps for the elderly and disabled.
They are constructing computer models of the human brain in a bid to treat mental illnesses.
Researcher Karla Munoz-Esquivel is developing software that will enable computers to identify what emotions people are feeling to help them learn more efficiently.
Mr Devine said that much of this work was already making a difference.
"Our healthcare work, our assistive robotics work, that can help people today," he said.
With over 400 visitors flooding through the ISRC in just three hours on Saturday, it is safe to say the event was an overwhelming success. And for some, like Sean and his mother, science and technology have opened up a window on a whole new world.