Shocking 1981 murder of new father John Proctor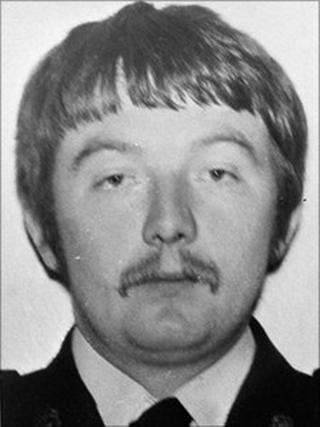 1981 was one of the bloodiest years of the Troubles in Northern Ireland, but the IRA murder of John Proctor was particularly shocking.
A 25-year-old reserve constable in the RUC, he had just visited his wife and newborn son when he was shot dead in the car park of the Mid-Ulster Hospital in Magherafelt, County Londonderry.
At that time, the hunger strikes by republican inmates at the Maze Prison were nearing the end; by September 1981, 10 men had starved themselves to death.
It was a period marked by intense violence.
'Despicable'
Before visiting the hospital to see the baby, Mr Proctor had served as a pall bearer at the funeral of a 20-year-old friend.
Alan Clark, a UDR member, was murdered by the IRA on the same day that Mr Proctor's son was born.
An editorial in the now-defunct Dublin newspaper the Irish Press described the killing of Mr Proctor as "a cruel, despicable killing that shames and shocks civilised society".
The baby would be named after his murdered father.
The South Derry Brigade of the Provisional IRA said it had killed Mr Proctor and said it was intensifying its campaign against the police and army.
Reinforcements
Michael McAtamney, deputy chief constable of the Royal Ulster Constabulary, announced reinforcements were being sent into the area following the two murders.
A day after Mr Proctor was killed, Conservative MP James Prior arrived in a bulletproof ministerial car to take up the job of secretary of state.
The inmates, who saw themselves as "prisoners of war", were protesting at being treated as ordinary criminals by the jail regime.
Bobby Sands, the most high-profile hunger striker, died on 5 May after 66 days on hunger strike, sparking riots in nationalist areas of Northern Ireland. Less than a month before his death, he was elected MP for Fermanagh-South Tyrone.
His funeral in Belfast was attended by at least 70,000 people, the biggest seen in the city until the death of George Best in 2005.
Michael Devine was the last of the hunger strikers to die, in August, and the hunger strike eventually ended on 3 October, 217 days after it began.
The end of the hunger strike saw both sides claiming victory.
A few days later, Mr Prior announced a number of jail policy changes which met some of the prisoners' demands.
Less than a month after it ended, the Sinn Fein annual conference heard of the concept known as the "Armalite and the ballot box".