1981 John Proctor murder case based on cigarette DNA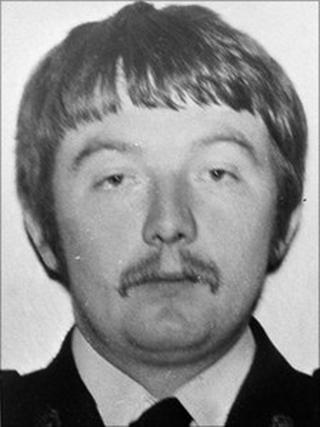 DNA on a cigarette discarded at the scene of a policeman's death 29 years ago led to a man being charged with murder, a court has heard.
RUC reserve constable John Proctor, 25, was shot dead in Magherafelt in September 1981.
Seamus Martin Kearney, 54, of Gorteade Road, Swatragh, was arrested on Monday.
A policeman told the court his DNA sample matched one on the cigarette. Mr Kearney, who denies the charge, was granted bail.
Mr Proctor had just visited his wife and new son in the Mid-Ulster Hospital in Magherafelt, when he was shot dead in the car park.
Londonderry Magistrates Court heard tests were carried out on a cigarette butt found among 13 bullet shells at the scene of the murder in September 1981.
Mr Kearney also faces a charge of possession of a firearm, an Armalite AR 15, with intent to endanger life.
A defence lawyer argued the cigarette butt at the centre of the prosecution case was found two days after the murder in a heavily populated public area.
He also claimed there was no forensic tent erected at the scene.
He said the case against Mr Kearney was weak and there was no likelihood he would interfere with witnesses or fail to turn up for his trial.
The district judge described the murder as cruel and tragic and carried out in a heartless fashion.
He granted bail but he ordered the accused to report to police three times a week and surrender his passport.