NI targets 40% alternative energy by 2020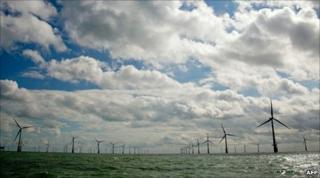 NI's new energy strategy sets a target of 40% of electricity to come from alternative energy sources by 2020.
The strategy aims to reduce reliance on fuels such as coal, gas and oil.
Less than 10% of NI's electricity is currently generated from alternative energy, mainly land-based wind farms.
Reaching the target will need large offshore wind farms, tidal turbines like Seagen in Strangford Lough and even using energy from controversial sources including waste incinerators.
BBC Northern Ireland environment correspondent Mike McKimm this process would not be cheap and could add as much as £100 to consumer bills.
"The alternative though would leave us at the mercy of international oil and gas prices which are expected to rise dramatically over the next few years," he added.
Energy Minister Arlene Foster said the targets set out in the Strategic Energy Framework for Northern Ireland 2010 document "highlight the need for effective action against climate change and the need to address other policy goals in terms of security and sustainability of supply and costs".