Police sacrifice honoured at memorial day in Belfast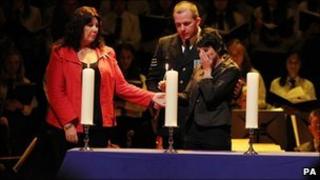 The Home Secretary, Theresa May, has joined hundreds of people to honour police officers killed in the line of duty, at the National Police Memorial Day service in Belfast.
The annual event, which was founded in 2004, honours police officers throughout the UK.
PSNI Chief Constable Matt Baggott was among those who attended the event in the Waterfront Hall.
He said the officers' sacrifice "would never be forgotten".
"Every day thousands of ordinary men and women with a sense of duty, pride and professionalism put on their police uniform - a uniform that reflects what they do and what they believe in," he said.
"These officers deal with serious harm every day knowing their lives are constantly at risk. For that, I commend their bravery, courage and dedication.
"Today's service was a reminder to us all that in serving and protecting our communities, these brave men and women sometimes pay the ultimate sacrifice."
Northern Ireland Justice Minister David Ford said it was an "immense privilege" to attend the service and an honour "to be the first locally-elected justice minister to participate in this dignified and sensitive occasion".
"Police officers regularly put their lives on the line serving all sections of the community and we should never take what they do for granted," he added.
National Police Memorial Day was founded by Police Sergeant Joe Holness from Kent Police to remember every officer killed on duty since modern policing began more than 180 years ago.
Organisers said the day also recognised the courage and dedication shown by all police officers across the UK.
Kate Carroll, whose husband Stephen was shot dead by the Continuity IRA in Craigavon, County Armagh, in March 2009, lit a candle to remember officers who have died in Northern Ireland.
She comforted the daughter of another officer from Wales, Daisy Godfrey, as candles were lit for those who had lost their lives in other parts of the UK.
Daisy's father, Pc Ian Godfrey, died when a taxi collided with his police patrol car at Swansea in 1999.
Seven officers have been added to the roll of honour in the past 12 months, including Pc Bill Barker, who was swept to his death in the Cumbrian floods in November 2009.
Pc Barker's family were among those in attendance, with his son Simon lighting a candle at the service.
A new National Police Memorial Day Standard was dedicated during the service, after which petals of remembrance, representing all those who have lost their lives, descended from the gallery.