Northern Ireland Commonwealth team will go to Delhi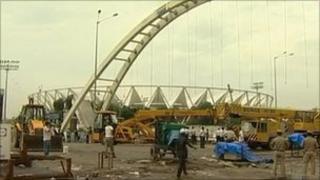 Northern Ireland's Commonwealth Games team will travel to Delhi.
Several nations have expressed concerns about the state of the accommodation and the safety of their competitors.
The NI Commonwealth Games Council said it had been assured the athletes' village would be in suitable condition by the team's arrival on Tuesday.
"Based upon these assurances, the council is pleased to endorse the decision that the team will depart for Delhi as planned," a spokeswoman said.
"There are ongoing concerns regarding the condition of some of the infrastructure, but it is acknowledged that progress has been made over the last few days.
"These developments have allowed our representatives to take up residence within the allotted accommodation block."
The decision was confirmed following a meeting in Belfast on Friday evening.
'Welcoming place'
The Games are scheduled to take place between 3 and 14 October.
Team manager Stewart Tosh arrived at the athletes' village on Wednesday.
Earlier on Friday, he said that any difficulties they encountered on arrival have since been fixed.
"The main problems here have already been highlighted, there were issues of cleanliness. But we were able to manage those and get to a position today where we are satisfied with what is being provided," he said.
"I'm very pleased to say that we're at a stage where we can recommend to the team that the accommodation is suitable and look forward to them travelling out here."
Mr Tosh said the athlete's village itself was a "very welcoming place".
"There are a lot of facilities here; there are a lot of things the athletes will be able to enjoy when they are here," he said.
Sports Minister Nelson McCausland said he was pleased the team had decided to travel to Delhi.
"Competing in sport at such a high level is a great achievement and I send my best wishes to all Northern Ireland's athletes," he said.