Northern Ireland greenkeeper prepares for Ryder Cup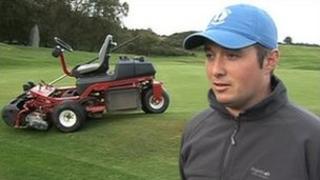 Relative to the size of its population - Northern Ireland will be very well represented at the 2010 Ryder Cup next week.
County Tyrone's Darren Clarke is a vice-captain of the European team while US Open champion Graeme McDowell will fly the flag for County Antrim.
County Down is sending two to Celtic Manor - 21-year-old Holywood star Rory McIlroy and Jamie McCune.
Jamie who? Well, the father-of-two from Dundonald certainly knows his way around a golf course.
For the past six years, he has been employed as a greenkeeper at Clandeboye Golf Club in County Down.
'Perfect job'
But next weekend, Jamie will reach the pinnacle of his profession by working at the biggest event in the sport.
"There's no better way to see a golf tournament," the 31-year-old declares.
So how did he get the gig? Simple - by phoning them up and asking did they need any volunteers.
You wouldn't think it was that easy, and of course it's not.
In fact it has nothing to do with luck, Jamie is quick to point out, citing his role as greenkeeper in last year's British Open at Turnberry and at the Walker Cup at Royal County Down as the type of experience the Ryder Cup organisers were looking for when he called them.
There is also the fact he's in his second year of a sports turf management course at Greenmount College and has been working towards his dream job since childhood.
"I can remember as a kid cutting greens out of a field and making wee bunkers to play out of.
"It's something I've always wanted to do - so it's sort of my perfect job," he says.
Getting a pass to the Ryder Cup and getting up close and personal with the game's greatest would be reward enought in itself you would think - and indeed it will have to be as Jamie will be working for free at the tournament.
'Daunting task'
He has taken a week off work to volunteer for 0600 BST starts at Celtic Manor and was even paying for his own flights until the Clandeboye club stepped in to help out with his air fare.
He admits it will be a daunting task to help finely manicure a whole course between first light and 0740 BST when the first golfers take to the fairways, but it's one he is very much looking forward to.
"For golfers of this sort of stature, everything has to be perfect for them.
"If we were to leave something out of place, forget to cut something or rake a bunker.... if one of the golfers was to hit their ball into a bunker and there was footprint which their ball went into, there would be a whole big kick-up.
"You just have to think about it from a golfer's point of view. It helps that I play golf.
"I play off 10 - I wouldn't exactly say good, but I'm not bad I suppose," he says.
'Priceless'
Last year, Jamie's job at the British Open involved being on the course during play and sweeping bunkers for the likes of Ernie Els, Lee Westwood and the tournament's eventual winner, Stewart Cink.
"Their caddies will chat away to you," he says, but adds the professional golfers are "in the zone, concentrating".
Jamie departs for his week in Wales on Sunday, and will attend a greenkeepers' induction on arrival at Celtic Manor.
Regardless of which team wins, he's hoping to return to Northern Ireland with a priceless addition to his CV.
"I want to be a golf course manager in the future. Hopefully this will give me the edge over anyone else going for these jobs.
"This is the third biggest sporting event in the world, next to the World Cup and the Olympics - I can't really get any better."