Seamus Heaney: 'I live in panic over the next poem'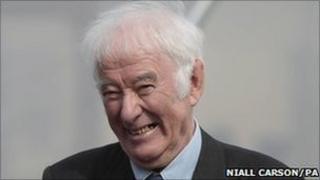 Nobel laureate Seamus Heaney was bemused by the critics' response to his latest collection of poetry.
It wasn't that they didn't approve - in fact he acknowledges that Human Chain has been received positively.
But Heaney admits he had not realised the theme of approaching death had featured quite so prominently until they pointed it out to him.
"I didn't have such a strong sense of mortality running through the book until the reviews began to appear.
"It daunted me. I thought, this sounds like he's writing his own obituaries," he laughed.
The 71-year-old was speaking to BBC Radio Ulster's Arts Extra programme about the publication of his 12th collection of poems.
'Shock'
He agrees that Human Chain, which also draws heavily on the themes of love, family, relationships and childhood memories, is perhaps the most personally revealing of his collections.
This very private, public poet began the book one year on from suffering a stroke.
The intimate insights into his personal life and relationships were partly due to his illness, he told the BBC's Marie-Louise Muir.
"I suppose it was aided by the shock of the stroke and aided by taking a year off and being silent in myself.
"I myself feel that this book is more naked, and I'm much more tentative talking about it than other books," he said.
His poem Miracle, which he describes as central to the collection, was directly inspired by his illness.
Recalling the people who had to carry him up and down stairs in the immediate aftermath of his stroke, he draws on the biblical imagery of the men who carried a paralysed man to Jesus to be healed.
"I realised the guys that are hardly mentioned are central... without them no miracle would have happened," said the grateful poet.
'Haunting'
Mixing the high-brow with the highly personal, Route 110 is his childhood bus journey from Smithfield bus station to Hillhead in County Londonderry, intertwined with references to the underworld adventure of the Aeneid.
He said that "oddly enough" the poem began without any mourning intention, and was intended to mark a very happy family occasion.
"Book VI, where Aeneas goes down to meet his father in the underworld, meets all the souls of the dead, the people he knew, people like his warrior friends," he said.
"But then he is shown all the souls on the banks of the Lethe that are going to be reborn under the sky and I thought - this is the way to greet our first grandchild," he explained.
Another poem, The Door Was Open And The House Was Dark, is a tribute his deceased friend David Hammond.
But Heaney insisted the poem was not written - but dreamt.
"The dream is just recorded in verse that rhymes. It was an extremely strange, haunting dream. One of those dreams that marks, that you don't forget," he said.
Many of the poems in Human Chain are "in dialogue" with his previous work and some go back to even earlier stages in his life than that recorded in his renowned 1966 collection, Death of a Naturalist.
'Surprise'
But what's next for Heaney if he's having to remind the critics that he's not quite ready to bow out just yet?
"I'm going to afford myself a year off.... and wait and see, and live in panic for the next poem."
Pressed as to how a critically acclaimed, Nobel prize winner could possibly be panicking about what to write next, Heaney explained:
"I think most lyric poets do live with the thought that this could be the last one, you know? You're as good as your last one.
"I cannot will it - I wait for the surprise of it," he said.
"Without a prompt or a little surprise or some kind of large theme rising, nothing occurs.
"But I have written one poem which I know strikes the note for the next book, so at least we have a tuning fork."