Team NI staff hold meetings in Delhi ahead of games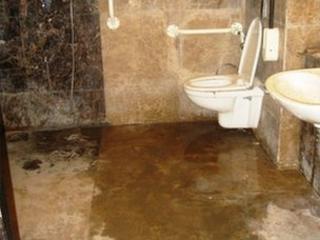 Two senior officials from the Northern Ireland Commonwealth Games Council are holding a series of urgent meetings in Delhi.
It follows complaints by teams about conditions at the athletes' village and safety concerns about the venues.
Eighty-one competitors from Northern Ireland are scheduled to travel to the games on Monday.
On Wednesday, the council said their departure date remained valid but they were awaiting their officials' reports.
Stewart Tosh and Terry Crothers from the Northern Ireland Commonwealth Games Council arrived in Delhi on Wedneday.
They provided an initial report to the council, which described arrival, transportation and accreditation for delegates as what would be "expected at a major, multi-sport games".
'Unsettling'
In a statement, the council confirmed the pair were holding discussions with other teams from the UK and are due to have a "more detailed tour of the accommodation facilities and venues over the coming days".
"At present, the original departure date of Monday 27 September is still valid.
"Until a more detailed report is available from our representatives in India, we will continue supporting our athletes and working towards this planned departure," the council said.
Badminton player Caroline Black, is one of those due to travel with the Northern Ireland team.
The 16-year-old from Lisburn said the situation was "a bit unsettling".
"I know everyone would like to go but it's not up to us, it's up to the commitee and what they think.
"I have faith that the Northern Ireland committee will go out there and look at our accomodation.
"Obviously, not all accomodation is going to be the same, so they will go out and make a judgement and then they'll make the right decision for us," she said.
'Filthy'
On Tuesday, at least 23 people were injured when a pedestrian bridge collapsed near the event's main stadium.
A section of false ceiling near the weightlifting area of the main stadium fell in on Wednesday.
In addition to fears over the safety of the venues, a number of teams described accomodation in the athletes' village as filthy, unhygienic and "unfit for human habitation".
There have been complaints that toilets are leaking and do not flush, while electricity supplies are either erratic or non-existent.