A1 lane closed after crane fire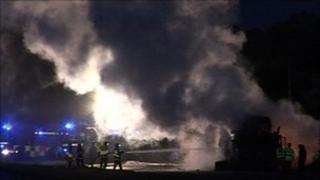 The citybound lane of the main A1 Belfast to Dublin Road at Hillsborough has reopened following a crane fire on Wednesday night.
However, one of the countrybound lanes towards Newry remains closed and police have said this is expected to remain in place until after the rush hour.
A mobile crane caught fire near Hillsborough at about 1830 BST. The crane was destroyed in the blaze.
Some of the crane's tyres blew off due to the heat of the fire.