Donagh victims call for an independent investigation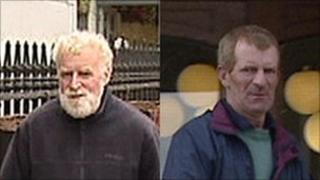 Victims of the McDermott brothers, and the wider community of Donagh village, have said they are "confused and bewildered" by the abuse case.
In a statement, Donagh Community Forum and Victims Representatives called for an independent barrister to examine all the evidence placed before the judge.
They said the remit of the inquiry into sex offenders cases announced on Monday would not cover the McDermott case.
They dismissed an internal health service investigation as a "waste".
The group complained that revelations about the County Fermanagh case had been "drip-fed" to victims through the media for months and interpretations of what had happened had varied considerably between the Departments of Health and Justice.
"There seems to have been a catalogue of errors across departments and each department has been keen to defend their territory and reputation.
"In these circumstances it has been impossible for victims to make sense of what has occurred or to find closure," the statement said.
'Lack of clarity'
They also accused the Health Minister Michael McGimpsey of pre-empting the outcome of the Health and Social Care Board's review of the case which he announced on Tuesday, saying he had indicated that "staff should not be held to account".
The group said that given "the lack of clarity in apportioning responsibility and the poor prospects of departmental officials in taking ownership for vital decisions relating to the case" they required a process that would provide answers.
"We call for an independent senior counsel to examine all the evidence placed before the trial judge before the making of the orders and the out-workings of the orders thereafter.
"This may go someway to discovering what actually happened," they said.
James and Owen Roe McDermott were two of four brothers involved in what one judge described as a "tidal wave of abuse" in the County Fermanagh village, stretching back over a 30-year period.
In June, the pair were deemed mentally unfit to stand trial and returned to live in Donagh.
Following objections from their victims and concerned residents, the brothers admitted themselves to hospital for treatment.