Rathlin Island dive centre planning appeal rejected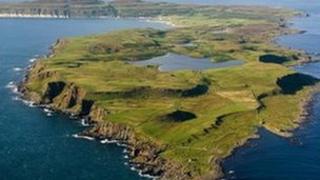 A man seeking to build a dive centre and guest home on Rathlin Island has lost an appeal against a condition of planning.
Douglas Cecil was granted planning permission on condition it was occupied by himself, his dependents or by former or current Rathlin residents who had "a strong island connection".
However, as a result of this condition he was unable to obtain a mortgage.
An appeal commission ruled the condition was not too restrictive.
Rathlin, which lies off the coast of north Antrim, is Northern Ireland's only inhabited offshore island.
When planners assessed Mr Cecil's proposal, which he submitted in 2008, they consulted draft policy COU 9 of the the Northern Area Plan, a specific policy for Rathlin.
'Second homes'
It states that "any planning permission for dwellings under this policy will be subject to a condition restricting their occupation to permanent residents who can demonstrate a strong island connection".
Its supporting policy text states "there is a need to facilitate the permanent community and discourage the proliferation of second homes".
Appeals commissioner Pamela O'Donnell said she acknowledged the financial constraints this condition had placed on Mr Cecil.
"However, the relevant policy does not make any allowance for the restrictive conditions because of financing problems and I feel that to do so would negate the strategic purpose of the policy," she said.
"Furthermore, the condition is not too restrictive."
Mr Cecil's mother, Mary Cecil, said it was an outrageous decision.
"It defies common sense and contradicts all other government department policies to support and assist the community," she said.
"No public housing is available on Rathlin for young islanders; they must build their own homes.
"No obstacles should be put in place by planners or anyone else to prevent young islanders having a sustainable future on Rathlin."