Nipsa warns of protests over £2bn cuts to NI budget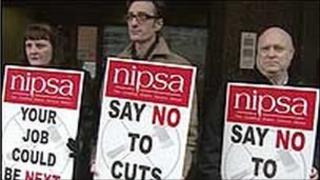 The general secretary of Northern Ireland's largest public sector trade union has warned that the £2bn of cuts to the NI budget will be met with "stiff resistance".
Finance minister Sammy Wilson said on Tuesday that the cutbacks will be "fairly massive" for some departments.
Nipsa said the scale of the cuts will lead to thousands of jobs being lost in the public and private sector.
It warned it will wreck the NI economy and deprive communities of services.
Nipsa general secretary Brian Campfield said: "The cuts represent economic vandalism and ignore the fact that it was banks and other financial institutions which precipitated the crisis yet it is low and middle income earners, women and young people who will bear the brunt of the cuts."
Mr Campfield said the government must consider a different model for reducing the deficit which does not entail "dumping hundreds of thousands of workers onto the dole and decimating important public services".
'No special treatment'
Nipsa said a series of protests have been organised by the Irish Congress of Trade Unions over the coming weeks.
Speaking at Stormont on Tuesday, Mr Wilson said the Treasury would have no sympathy for the argument that NI is 'a basket case economy', deserving special treatment.
He said the current budget, which funds ongoing government programmes, would be cut by over £1.5bn, more than 10%.
The capital budget, which funds roads and buildings will be cut by more than 30% or £500m.
The scale of the cutbacks will start to become clear when the Chancellor reveals the outcome of the UK wide spending review on 20 October.
The size of Northern Ireland's block grant will be revealed on the same day and Mr Wilson said he hoped to get a budget through the Assembly early in the new year.
He said things "could get fairly messy" as the fine detail of the spending plans are worked out by the Executive.
However, he warned against any "procrastination", saying front-line managers in the public services need to know their budget position well in advance of the start of the financial year.