Where have all the flowers gone?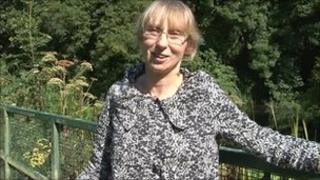 A glen which once was the favourite home of the small blue butterfly is losing its beauty.
Artist Evelyn Joyce who loves the Strickland's Glen nestled in the heart of Bangor's suburbs, fears for the glen which is part of her childhood and her children's childhood.
"It is a place I have been to since my childhood. My children would have played a lot here too," she said.
"It is also the place where I learned the names of the birds, the flowers and the butterflies.
"There used to be a lot of wild flowers in Strickland's Glen and it is sad to see it has depleted," she said.
Mrs Joyce said the glen was once named in the Observer's Book of Butterflies as the place where the small blue butterfly was most prevalent.
"This year I have just seen one of those," she said. "If there is only one in the most prevalent place, it does make you worry."
The artist has painted various parts of the glen but said the spread of ground ivy had destroyed many wild flowers. She partly blames the demise of some of the species on the local council.
The artist has called for an "educated management" of the glen. She said a cosmetic job of cutting down grass and with it, the wild flowers wasn't the answer.
"Because the flowers have gone, the butterflies just aren't there," she said.
The river was also being choked with garden waste dumped into it, she said.
"There are five little waterfalls that run between here and sea. Nearly all of them are choken by fallen trees and because council workers sadly put a lot of the garden waste they cut into the river," she said.
North Down Council has admitted that the glen, once a popular spot with day trippers, is not in the best shape.
But, as part of its upgrading programme, work will be carried out to improve the glen over the winter months.