Mission impossible: who will lead the Ulster Unionists?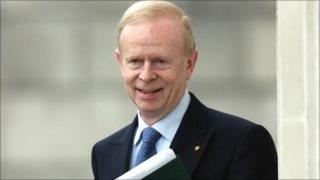 A decade ago, Northern Ireland's largest political party was tearing itself apart over the Belfast Agreement.
In the intervening years much has changed for the Ulster Unionist party, but now it is tearing itself apart over who is best equipped to rescue it from oblivion.
Since the days when David Trimble led the party, it has resolved its differences over the Agreement - but at the huge cost of losing all of its 10 MPs.
Now, as it seeks yet another new beginning, some are even asking whether the party has a future at all.
The two men vying for what many believe is an impossible job are unionists, but that is where the similarity ends.
One one side there is Tom Elliott, seen as the "establishment" candidate - senior Orangeman, former UDR soldier, a traditionalist who has the backing of the party hierarchy and all but one of its MLAs.
On the other is Basil McCrea, self-styled candidate for "change", a moderniser who revels in his role as the outsider and who almost makes a virtue of the fact that only one of his fellow MLAs wants him to become the next Ulster Unionist leader.
The contest - particularly in its early stages - was marked by bitterness and acrimony with Mr McCrea criticising Mr Elliott for his unwillingness to attend GAA matches and gay pride events.
Mr Elliott retaliated by accusing Mr McCrea of making "low down comments" and even calling for disciplinary action to be taken against him.
Then, there was a row over alleged irregularities in the party's membership lists and a threat of legal action allegedly from a McCrea supporter which, at one time, seemed to place a question mark over whether the leadership election would take place at all.
Whoever wins, the party's ill-fated electoral link with the Conservatives looks doomed. Mr McCrea is known to oppose it and Mr Elliott says that UCUNF (Ulster Conservatives and Unionists New Force) "is dead".
Then there is "unionist unity". Mr Elliott says he is not opposed to cooperation with the DUP on some issues, but does not believe there will be a single unionist party in his lifetime.
Mr McCrea says unionist unity would be "counter productive" and only drive moderate nationalists to vote for Sinn Fein.
The two men are also very different in the way that they present themselves. Mr McCrea is a "media darling", highly articulate, a strong performer in the Assembly and in radio and television interviews.
Mr Elliott lacks his rival's flair for the limelight and relies on his "solidity" which is attractive to the traditionalists within the party, but may make him a more difficult "sell" to a public, which is possibly more familiar with his rival.
Whatever the result, the winner must perform two difficult tricks.
First, they must stop the party's electoral rot which means attracting back unionist voters who have switched in large numbers to the DUP, or who simply no longer vote at all.
Secondly, they must bridge the divisions which have opened up during the leadership contest to prevent yet another split.
Basil McCrea has upset many of his Assembly colleagues by making no secret of the fact that he believes many of them must step aside for younger - and in some cases - female replacements.
On the other hand, what would the McCrea camp do in the event of an Elliott victory when he has already said that would only continue the party's steady decline?
Given the list of party grandees lined up for Tom Elliott, it should not even be a contest. But this is a "one member one vote" election and Mr McCrea is relying on his belief that the membership is fed-up with the status quo.
In recent days there have been signs of a thaw between the candidates. They were happy to be seen dining together in the Stormont canteen.
In any case, whoever wins all the signs are it will be close. If the defeated candidate gets more than 40% of the vote the victor may feel obliged to offer him the deputy leadership.
But one thing is certain - Wednesday night's vote is the easy bit... after that it gets a whole lot harder.