Pensioner fails in legal bid to reverse A&E closure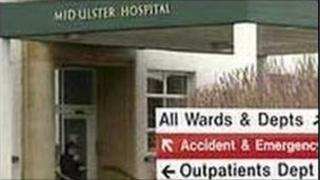 A Magherafelt pensioner's legal bid to stop the closure of the accident and emergency unit at his local hospital has failed.
John Quinn, 70, wanted a judicial review of the decision to shut the Mid Ulster Hospital's A&E department.
But at the High Court on Tuesday, the judge refused to grant permission for a judicial review.
He said it was not reasonable to expect the A&E to stay open when clinicians were saying it was unsafe to do so.
Mr Justice Treacy said permission was also refused on the grounds of delay, because Mr Quinn had waited until the A&E was closed to take the decision to court.
The judge said that the legal challenge was mounted neither promptly nor within the three months required under law.
'Struggling'
Emergency services at the hospital in Magherafelt were withdrawn in May when the A&E department was replaced with a minor injury unit.
Mr Quinn, who has survived two heart attacks, brought the case on behalf of a local campaign group opposed to the closure.
His legal team had argued that there was a legitimate expectation that an A&E unit would stay in place until 2012, when new facilities are due to be completed at Antrim Area Hospital.
They claimed shutting the unit had left Antrim struggling to cope with the extra patients being sent there.
It was also argued that for two years, no attempt had been made to recruit medical staff needed to run services at the Mid Ulster.
But lawyers for Health Minister Michael McGimpsey and the Northern Health Trust insisted there was an obligation under law to provide a safe and effective service.
The court also heard five unsuccessful attempts were made in 2008 to recruit new staff.
'Fight on'
Dismissing the case, Mr Justice Treacy said: "The applicant cannot enjoy a legitimate expectation that a public authority provide services that don't comply with their duty of care, nor can they be ordered by the Court to provide A&E services which are deemed unsafe."
Mr Quinn was not present for the ruling, but Hugh McCloy, chairman of the Save The Mid campaign group, vowed to fight on.
Speaking outside the court, he said: "Unfortunately justice wasn't seen to be done for the Mid Ulster.
"But we will continue to fight on in any avenue we can to restore A&E services."
The SDLP MLA for the area, Patsy McGlone, also insisted it was not the end of the matter.
"I'm not giving up just because we got a setback here today from a judge who probably doesn't know the area that well," he said.
Mr McGlone added that he was "far from satisfied that the full facts of the case were available to the judge".