What the papers say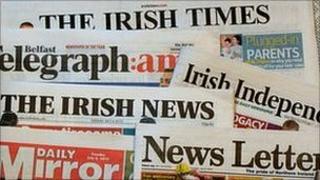 Journalist Fionola Meredith takes a look at what is making the headlines in Tuesday's newspapers.
A row over who owns Northern Ireland's electricity is the focus in the Belfast Telegraph and the News Letter.
Unionist leaders have been accused of politically-driven interference after they wrote to the Irish government, objecting to its electricity provider buying NIE.
DUP and Ulster Unionist leaders Peter Robinson and Sir Reg Empey have written to Brian Cowen about it - a rare joint approach, as the News Letter notes.
And UUP leadership candidate Tom Elliott describes the move as a "constitutionally invasive deal".
But the SDLP's Alban Maginness, who chairs the enterprise committee at Stormont, has accused Mr Robinson and Mr Empey of political meddling, and says politics should be kept out of business matters.
A powerful new road safety campaign, featuring a girl whose mother and older brother were killed by a car criminal, is lead story in the Irish News.
Ann Marie Fitzpatrick was only four when it happened, and - now 14 - she hopes to prevent other young people suffering the same trauma.
Two Brians
A show of unity by the two Brians - Cowen and Lenihan - is on the front pages of the Irish Times.
The paper pictures them both on the steps of Government Buildings in Dublin.
Mr Cowen has pledged to stay in his job, saying his focus would be on providing the leadership the country needs.
The paper says he was emphatic that he has no intention of resigning and he pointed to the full support he had received from his Cabinet colleagues.
The cross-channel papers react to Nick Clegg's first conference speech as deputy prime minister.
Hold your nerve and stick with me - that's Mr Clegg's main message, summed up by the Times and the Guardian.
The Mirror thinks the speech bought Mr Clegg time, rather than inspiring his tribe.
Yes, he was a bit defensive as he tried to justify the Coalition to his party members, says the Mail, but he wasn't afraid to spell out the political realities - and he was generous to the Conservatives throughout.
Andrew Gimson of the Daily Telegraph wasn't keen at all though - he says "the piety was sometimes intolerable, Mr Clegg has lifted off into a stratosphere where earthbound critics cannot get at him".
But Simon Carr of the Independent was surprised how well the speech went down with party members - "like the vegan's first taste of steak."
He imagines the reaction - "Oh God this vile, this spiritually repulsive meat, nobody said how good it tastes!"