Bail denied to woman charged after brothel raids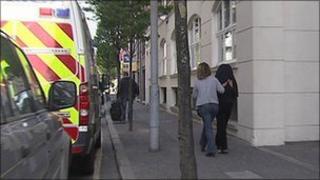 A woman described as playing a "pivotal role" in running brothels in Belfast has been denied bail.
Ashleigh Beuken, 21, from Glasgow faces charges of trafficking, controlling prostitution for gain, running brothels and converting criminal property.
Her defence solicitor argued she is not a "gangster's moll", but a victim of prostitution.
She was arrested along with three others during a series of raids in Belfast earlier this month.
The arrests formed part of a UK-wide operation aimed at recovering the victims of sexual exploitation.
Those suspected of controlling the prostitutes also operate in Glasgow, Edinburgh, Aberdeen and Cardiff, it was claimed.
Police opposed Ms Beuken's application for bail during a hearing at Belfast Magistrates Court.
A detective constable claimed: "It's the police view that Ms Beuken is pivotal to this enterprise."
The officer disclosed that the gang has been assessed as having the potential to generate illicit income in excess of £20,000 a day.
He told the court Strathclyde Police were now seeking to have £2.3m in assets frozen.
"We don't know if that's the tip of the iceberg or that's it in its entirety," he added.
Defence lawyer Joe McVeigh disputed claims that his client played any key role in the alleged prostitution ring.
He said she had advertised her availability "to be in the company of men" through a number of websites.
"If you were making a share of a £2.3m profit, the question would be why would you have sex with strangers?" Mr McVeigh asked.
Even though the detective claimed there were some 4,500 telephone communications between Ms Beuken and the suspected gang leader over a four month period, the solicitor argued that she had been "ruthlessly" taken as his girlfriend.
Describing the accused as a victim, Mr McVeigh said: "This is someone who, police would say, is earning large sums of money from this but still has to be, on the police case, used as a prostitute and has to have sex with strangers.
"She has to live a fairly difficult lifestyle, a vulnerable lifestyle and be on her own with strange men.
"And when she is not with them, she has to be with the man police would say is the pimp to this woman."
The lawyer also questioned how a woman aged 21 could have such an alleged high-ranking role in a crime gang controlled by older men.
He added that, without wanting to stereotype Ms Beuken, the allegation against her was she was almost like "the gangster's moll".
Despite his submissions, and the offer of a £10,000 cash surety, District Judge Fiona Bagnall refused bail due to the risk of interference with witnesses and potential re-offending.
Ms Beuken was remanded in custody to appear again later this month.