Ballymurphy families take campaign to Stormont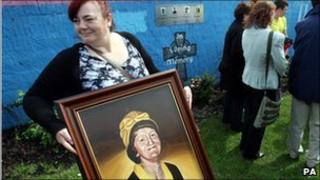 Relatives of Bloody Sunday victims have gone to Stormont to support a campaign by the families of 11 people killed in Ballymurphy, west Belfast, in 1971.
The Ballymurphy families want an independent international investigation into the circumstances of the deaths.
They are also calling for an apology from the government.
Gerry Adams, Mark Durkan and a number of other Sinn Fein and SDLP politicians appeared alongside the families to express their support for the campaign.
A Catholic priest and a mother-of-eight were among those killed by the Parachute Regiment in Ballymurphy in August 1971.
The troops claimed they opened fire after being shot at by republicans.
The shootings took place during the Army's Operation Demetrius, during which people arrested on suspicion of involvement in paramilitary activity were interned.
In July, the Catholic Bishop of Down and Connor Noel Treanor said he supported calls for an independent international inquiry into the deaths