Family fight to clear Torney name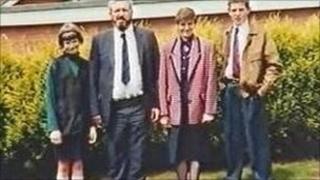 On 20 September, 16 years ago, a police constable telephoned Cookstown police station in County Tyrone to say that his wife and daughter had been shot dead by his teenage son.
John Torney was that police officer. His wife, Linda, and his two children, John Junior, 13 and Emma, 11, were found dead at the family's Lomond Heights home.
He maintaned that John Junior carried out the killings before turning the gun on himself.
But the following year, Torney was convicted of murdering all three of them.
He died in jail in 2005 of a suspected heart attack, still protesting his innocence.
His family have kept up the fight to clear his name.
On this, the 16th anniversary of the killings, his sister-in-law Hilary has published a book - Justice for John - in the hope that this will help in their battle to have him declared innocent.
The family has said there was evidence that John Junior carried out the murders, then killed himself.
They believe that Emma told a friend she had been sexually abused by her brother and was going to tell her mother.They think this was the impetus for the murders.
Looking back to what happened on that day, Hilary Torney said: "Young John Junior went beserk, as John had testified. He had shot his sister and his mother and then turned the gun on himself.
"The forensics clearly established the impossibility of transferring the gloves from his own hands to John Junior's without contaminating the boy.
"There is also the fact that there is no evidence of a clean-up being carried out by John Snr," she said.
"This very much supports John Snr's innocence."
Hilary Torney said the family visited John Torney every week when he was being held in Maghaberry Jail.
"He never waivered from the fact that he had been done an injustice. The evidence from our defence team very much supported his innocence," she said.
"It is the 16th anniversary of Linda and the children's deaths. John is deceased now five years and his mother, one year. By writing this book, I hope to raise public awareness of a gross miscarriage of justice, to bring forward new witnesses and to open doors."
Hilary Torney said the family wanted an independent evaluation of the forensics from the case to be carried out in America.
"We are hoping that, with political and diplomatic pressures, new ballistics analysis from the United States can make the final breakthrough," she said.