Official inquiry into NI sex offender cases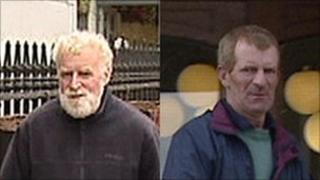 There is to be an official inquiry into how cases involving sex offenders are dealt with in Northern Ireland.
It follows an emergency meeting on Monday involving the chairs of the health and justice committees, looking into the Donagh child sex abuse case.
It has emerged the justice department made a number of clerical errors.
Among them is that the sexual offences prevention order wrongly stated it should last for five years when a judge had intended for it to last for life.
In light of this, the justice minister, David Ford, has called for an urgent review to be undertaken of all such orders which could affect around 300 cases.
There has been controversy over how two brothers, James and Owen Roe McDermott who abused children for 30 years were allowed to return home to Donagh, County Fermanagh.
Mr Ford said it was clear that there had been a distinct lack of clarity around the management of the McDermott case and this had only added to public concern and the distress of the victims.
The justice minister directed the following remedial action:
case records are being corrected and amended orders will be issued
staff will be retrained and more robust monitoring procedures will be implemented
an audit of all sexual offences prevention orders made in NI has been initiated and will be completed by mid-October
a review of the administration arrangements for preparing, checking and issuing court orders in the crown court in NI has been initiated
court orders in complex cases will be verified by the trial judge before issue as agreed by the lord chief justice.
An audit of all supervision and treatment orders currently in force in NI has been completed .
The chief inspector of criminal justice in NI, Dr Michael Maguire, is to carry out a detailed investigation of cases where sexual offences prevention orders are used, but his remit will not include the McDermott brothers case.
On Monday, a sex abuse victim from Donagh said no government department or individual had yet taken responsibility for the McDermott brothers.
"We want someone to take responsibility," they said.
"It has been a catalogue of errors and they bandy it from one department to the other.
"We'd like to think the case can be reviewed in some shape or form.
"The current outcome is not satisfactory for anyone."
Last week, it emerged the office of the most senior judge in NI had written to the justice minister to clarify the judgement made in the Donagh case.
The lord chief justice said the trial judge ruled the brothers should live at home, after a recommendation by health professionals.
The letter also said they had lived at home since their arrest in July 2008.
It was a highly unusual move for the lord chief justice to clarify a judge's ruling.
Between them, four McDermott brothers, from Moorlough Road in Donagh, faced 60 charges of abuse.
John McDermott was jailed for nine years in June for his role in the abuse, which was described as frequent, regular and persistent.
Peter Paul McDermott took his own life during his trial on abuse charges involving two young boys.