Ritchie, Cowen to discuss dissident republicans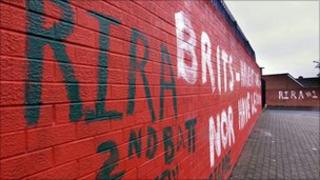 Cross-border policing co-operation should be stepped up to combat dissident republicans, SDLP leader Margaret Ritchie has said.
Ms Ritchie and her deputy leader Patsy McGlone are to meet Irish Prime Minister Brian Cowen on Monday to discuss the issue.
Speaking ahead of the meeting, she said: "Our most immediate concern is the rise in dissident violence."
Ms Ritchie said it was "an attack on Irish democracy north and south".
The SDLP leader criticised the performance of MI5 in combating dissidents in Northern Ireland.
MI5 took over the lead role in intelligence gathering in NI in 2007.
"We believe that the transfer of intelligence primacy from the PSNI to MI5 in 2007 was a mistake and a failure," Ms Ritchie said.
"We note that An Garda Siochana (the Irish police) continues to frustrate dissident operations and make arrests based on high-grade intelligence.
"We will be telling the taoiseach that we believe the time has come to step up cross-border policing co-operation and give it practical and visible outcomes, particularly in border areas."
Northern Ireland Secretary of State, Owen Paterson, is due to meet Irish Justice Minister, Dermot Ahern, in Dundalk, County Louth, later.