NI schools urged to register for anti-bullying week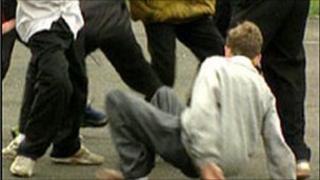 Schools across Northern Ireland are being urged to register for this year's anti-bullying week.
The event which runs from 15 - 19 November is co-ordinated by the Northern Ireland Anti-Bullying Forum.
This year's theme will focus on "Where the bullying is… and how we can stop it".
Research by the Department of Education shows pupils in school are more likely to experience bullying outside the classroom.
Amongst the sample of Year 6 pupils, almost half of those who responded said bullying took place in the playground/athletic field during lunch or break times.
For Year 9 pupils, 38% said bullying took place in hallways or stairwells.
Other locations mentioned included locker rooms, lunch halls, in classrooms when the teacher was absent and even in the toilets.
The NI Anti-Bullying Forum said the event is a great opportunity to reinforce anti-bullying messages for all of those involved in schools - teachers, support staff, children and parents.
It said children and young people's participation is especially critical in ensuring anti-bullying strategies are effective.
Schools must register online before 1 October.
Once registered, schools will receive a free resource pack, which includes assembly plans, lesson activities and themed posters.
Guidance will also be offered on preventative initiatives which can be used as part of an overall anti-bullying strategy.
Over 600 schools across Northern Ireland took part in Anti-Bullying week in 2009.