Plans to reduce pollution caused by plastic bags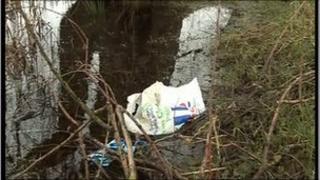 Councils in Northern Ireland are to hand out thousands of free re-usable bags in a bid to cut down on pollution caused by the use of plastic bags.
Last year supermarkets handed out 189m plastic bags.
The Environment Minister Edwin Poots said he hopes he will not have to bring in tougher measures.
"Plastic bags are a nuisance, they blow around the countryside and we need to reduce the amount that people are currently using," he said.
"If we brought in a tax, it would more likely hit people from socially deprived areas in a greater way so we want to discourage the use instead.
"If this doesn't work, we will consider introducing a levy as a means of finishing this job," he warned.