Jennifer Cardy murder trial may be delayed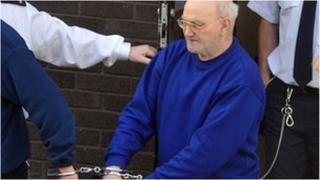 The scheduled start date for the trial of a man accused of murdering a County Antrim schoolgirl may have to be put back, Belfast Crown Court has heard.
Robert Black, 62, who is originally from Scotland, denies murdering nine-year-old Jennifer Cardy.
Jennifer disappeared from Ballinderry village in August 1981 while cycling to a friend's house. Her body was found six days later.
The court heard the defence had 200,000 pieces of evidence to review.
Junior defence barrister Fiona Doherty said her senior colleague had only come back into the case.
She said the defence was also seeking expert reports on a number of issues, including reports on engineering and on the various routes and distances involved within Northern Ireland which form part of the prosecution case.
Jennifer's body was found by fishermen at McKee's dam near Hillsborough, County Down.
Ms Doherty said an issue had arisen from the original pathology report of what had been found in the child's lungs and that an expert is being instructed to review that particular part of the evidence.
She said that at this stage the defence team has not had the opportunity of viewing additional material provided by the prosecution, adding that in the circumstances the present trial date of 22 November "may not be viable".
Mr Justice Hart said: "It's unfortunate that this situation has arisen, but the reasons for it are not within the power of the court."
He said that he would review the case on 15 October, by which time the court should be provided with the defence statement and be in a position to tell him when the various expert reports would be available.
The judge said that in the circumstances "the availability of witnesses from January to Easter should be checked in the interim".