Newry man 'threatened to burn sister and her baby out'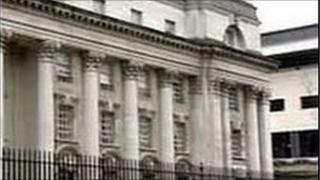 A Newry man drank two bottles of whiskey before threatening to burn his sister and her baby out, the High Court in Belfast has heard.
Sean Taylor, 22, is accused of making threats against the alleged victim, her partner and young child.
Prosecutors claimed in court he told his sister that both she and her daughter were "going to be dead".
He is further alleged to have said: "If I can't do it someone else will do it. You will not sleep tonight."
Mr Taylor, of Cambrook Estate, Camlough, Newry, faces charges of threats to kill and to damage property.
He is also accused of assaulting his sister's partner and a police officer following his arrest.
The charges relate to an alleged domestic dispute at an address in Newry on 8 September.
Mr Taylor told police he could not remember being at the property or anything about the alleged offences due to the amount of drink he had taken.
His lawyer said: "He has no recollection of these events.
"That's not surprising if one accepts the veracity of the consumption of two bottles of whiskey.
"It's a wonder he was able to walk and co-ordinate himself let alone have any recollection."
The lawyer told the court his client's representatives had been in contact with a clinic in London in connection with his drug and alcohol problems.
Mr Taylor's application for bail was adjourned to allow further checks on a potential address for him to stay.
The judge, Mr Justice Treacy, also requested a GP's letter setting out the treatment on offer to him.