Sinn Fein tells students' parents to visit Holyland area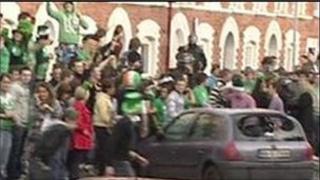 Sinn Fein has urged parents of students living in the Holyland in south Belfast to visit the area at night to "see for themselves what is going on".
South Belfast MLA Alex Maskey has appealed to parents to "take an active interest in what their children are doing" while attending university.
In recent years Holyland residents have complained about high levels of anti-social behaviour involving students.
Mr Maskey made the appeal ahead of Queen's University's Freshers' Week.
Last year, on St Patrick's Day, several police officers were injured during extensive rioting when hundreds of young people gathered in the streets.
'Nightmare'
The Sinn Fein representative has been closely involved in efforts to forge better relations between students and the families who have lived in the area for many years.
He said that for many long-term residents of the Holyland, the start of the new academic term marked "the beginning of what they fear will be another nightmare year".
Mr Maskey urged students to treat their new neighbours "with the same respect that they would grant their neighbours at home".
"Unfortunately, particularly in recent years, there has been much concern about the conduct of a minority of students in the area.
"I would ask students moving into the area to please keep in mind that there are families and elderly people living as their neighbours," he said.
He appealed to students to play a "proactive role" in their new community, but said their parents and their universities also had responsibilities.