Man on gun and ammunition charges refused bail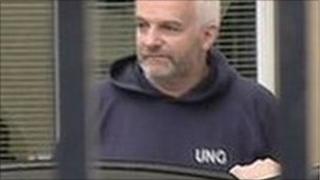 A man accused of possessing a "terrorist arsenal" following a bomb attack on a Londonderry police station has been refused bail in the High Court in Belfast.
Thomas Christopher Nash, 53, from Iveagh Park in Derry is charged with a number of offences.
The court was told that real and fake guns were found along with ammunition during searches of two properties linked to Mr Nash.
He denies the offences.
Mr Nash is charged with possessing a rifle with intent, having eight rounds of ammunition, 33 rounds of Magnum ammunition, and 100 rounds of Luger ammunition.
He is also accused of possessing a CS spray canister, an imitation AK47 rifle and fake handgun. He denies the offences.
Crown Counsel Fiona O'Kane said a silencer, balaclava and latex gloves, multiple mobile phones, SIM cards, batteries, an electric tester and duct tape were found during searches carried out following the attack on Strand Road PSNI station on 3 August.
No-one was injured in the explosion, but a number of businesses were badly damaged.
Dissident republican faction Oglaigh na hEireann claimed responsibility for the attack.
Mrs O'Kane confirmed Nash, a car-breaker and mechanic, has not been charged in relation to the bomb.
She said inquiries were ongoing.
She told the court there had been four failed attempts to hijack taxis, before a car was successfully seized by those responsible.
Some of the weaponry Mr Nash is charged with having was found in a garage and in pillars outside a house where he was staying, according to the prosecution.
A rifle butt fitting the imitation AK47 was discovered in a set of drawers at his former home, Mrs O'Kane said.
Joe Brolly, defending, disputed claims that Nash came to police attention after the bomb attack.
"There was a tip-off to search the premises," said.
"There is no evidence to link him to the bomb. He hasn't been charged with those offences. We say that's simply prejudice that has been trailed across this case."
Mr Brolly also described his client as a vulnerable man suffering from severe depression and serious ill-health.
But refusing bail, Mr Justice Treacy said: "He is charged with extremely serious offences involving the possession of a terrorist arsenal which in all probability formed part of the armoury of one or other factions of the dissident republican movement."
The judge added that there was a risk of any further offences being committed given the "ongoing violent campaign by dissident republicans".