Presbyterian Moderator defends his stance on the Pope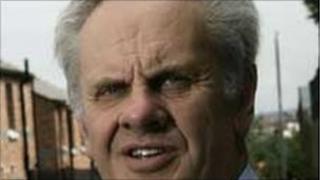 The Presbyterian Moderator has reiterated his decision not to meet the Pope and shake his hand at a service in London on Friday evening.
Dr. Norman Hamilton has been invited to a special service in Westminster Cathedral on the second day of the Pope Benedict's visit.
He insisted his stance was not a snub to Catholics or Pope Benedict XVI.
On Thursday, Dr Donald Watts, the general secretary of the Presbyterian Church shook the Pope's hand.
The Pope also met and shook the hand of the Rev Donald Kerr, former president of the Irish Methodist church and Archbishop Alan Harper, head of the Church of Ireland during a line up at Holyrood House in Edinburgh.
Dr Hamilton's decision has been criticised by the Prime Minister's representative in charge of the state visit, Lord Patten.
The Presbyterian moderator explained why he was declining the invitation to meet the Pope after the service but denied there was any discourtesy involved.
"From where I stand, to be true to myself, I would want a meeting with the Pope to be substantive rather than a passing few courtesies because there are many things that trouble us over in Ireland so I am wanting to meet the Pope.
"I am wanting to have a proper engagement with him. I'm simply saying that the context of being presented to his holiness is not enough for us to help resolve some of the issues," he added.
Dr Hamilton said he would welcome the opportunity to have a "face to face" meeting with the Pope.
"I would welcome the opportunity to have a proper meeting with the Pope to sit down with him, man to man and discuss a number of troubling issues," he said.
"Some of those would be biblical and theological because we regard the Roman Catholic church as a church in error, others would be pastoral while others would be practical," he said.