Pope should meet victims: Ritchie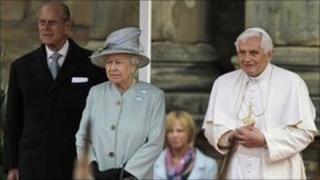 The Pope is in London on Friday for the second day of his visit to the UK.
He will meet the Archbishop of Canterbury and address MPs and lords in Westminster.
SDLP leader Margaret Ritchie will be amongst those to hear Pope Benedict speak. She said he must make time to meet those who were abused by priests.
"The Pope must as a matter of urgency meet with the victims, who have been subject to such grave injustices," Ms Ritchie said.
"There is absolutely no doubt about that and the Pope must dictate I suppose in very unequivocal terms that those actions carried out by people, by priests and others, were totally wrong."
She added: "I am delighted that the Holy Father is visiting Britain and I would hope that this trip is a forerunner to a papal visit to the island of Ireland in the near future."
Pope Benedict will meet school children and students to celebrate Catholic education and will then join the Archbishop of Canterbury at Lambeth Palace.
He will then travel to Westminster Hall - the place where Sir Thomas More was tried in 1535 for showing allegiance to the Pope .
Pope Benedict will deliver a keynote speech to MPs, Peers, and former Prime Ministers.
Afterwards the Pope will join other christian leaders at Westminster Abbey.
The first and deputy first ministers were invited to a ceremony to mark the arrival of the Pope in Edinburgh on Thursday, but did not not attend.
Peter Robinson and Martin McGuinness were asked to be among the dignitaries presented to the Pope by the Queen.
Mr Robinson said he did not go because he had to attend the opening of the New York stock exchange's new premises in Belfast on Thursday afternoon.
Mr McGuinness also attended the opening and described it as "very important".
A 60-strong delegation from the Free Presbyterian Church, including its founder Ian Paisley, now Lord Bannside, held a "peaceful protest" in Edinburgh to show their opposition to Pope Benedict XVI's visit.
Tribute
Welcoming the Pope to Britain, the Queen paid tribute to the Vatican in helping to bring peace to Northern Ireland.
The Queen said the UK deeply appreciated "the involvement of the Holy See in the dramatic improvement in the situation in Northern Ireland".
The Pope said he wanted to hold out the hand of friendship to all the peoples of the United Kingdom.
The pontiff met the Queen and other dignitaries including the Deputy Prime Minister Nick Clegg, and the first ministers of Scotland and Wales, at Holyrood House.
On Thursday evening, tens of thousands of people attended an open-air Mass at Bellahouston Park in Glasgow.