15 injured in Belfast bonfire 'hit and run'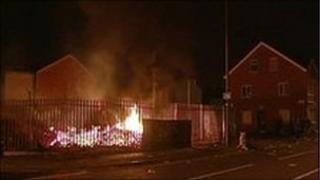 Fifteen people were injured during an alleged hit-and-run collision at an eleventh night bonfire in south Belfast, the High Court has been told.
Prosecutors disclosed the total number of those reportedly hurt as a man accused over the incident was denied bail to attend the birth of his child.
Dean Nesbitt, 29, of Violet Street, Belfast, is accused of several offences over the incident in the Village area.
Crown counsel said the accused claimed he was surrounded by a crowd of 200.
Mr Nesbitt is accused of causing grievous bodily injury by dangerous driving, failing to stop or report an accident, driving while disqualified and having no insurance.
The collision happened at Coolfin Street, off the Donegall Road, in the early hours of 12 July.
Crown Counsel Fiona O'Kane said Mr Nesbitt's car was driving slowly through a crowd of up to 200 people attending a bonfire when it was surrounded and he accelerated.
She said the accused claimed sectarian abuse was shouted at him.
The court heard how the following day Mr Nesbitt's partner claimed she had been behind the wheel.
However, photographic evidence was said to confirm the driver was male.
Mr Nesbitt was arrested two weeks later, when he claimed to have driven the car after his pregnant girlfriend complained of stomach pains.
He said he feared for his safety when a mob encircled the vehicle and began rocking it from side to side, the court was told.
His barrister, Charles McCreanor, stressed the compassionate bail application was limited to attendance at the labour stage of the birth.
But refusing the request, Mr Justice Hart said: "This man simply cannot be trusted in any way at all to comply with any conditions the court might impose on him."