Chinook crash review panel announced by government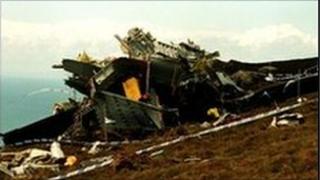 A former Scottish judge is to head up a review into the cause of an RAF Chinook crash on the Mull of Kintyre in 1994.
Lord Alexander Philip has been asked to examine the evidence into the crash which killed 29 people.
Four crew and 25 senior intelligence officers from NI were on the flight from Belfast to Inverness.
The two pilots were blamed for gross negligence by RAF air marshals but the findings have been disputed by campaigners ever since.
The Defence Secretary Liam Fox revealed on Thursday that the review of evidence will be chaired by Lord Alexander Philip.
Lord Philip will also work closely with a panel of three other Privy Counsellors.
They are, The Rt Hon Malcolm Bruce MP, a former Liberal Democrat party spokesman on Scotland, the Rt Hon the Lord Forsyth of Drumlean, a former Conservative Secretary of State for Scotland and The Rt Hon the Baroness Liddell of Coatdyke, a Labour Peer and a former British High Commissioner to Australia until 2009.
She is also a former Secretary of State for Scotland.
The appointments have been welcomed by the former Liberal Democrat leader, Ming Campbell.