No cure - hangover story that won't go away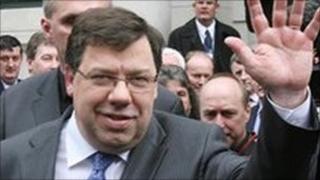 Taoiseach Brian Cowen was in Brussels on Thursday for a meeting of European Union leaders dominated by economic issues.
BBC NI's Dublin correspondent Shane Harrison reports on the Irish prime minister's first major engagement since apologising for a controversial radio interview earlier this week when, some believe, he was hung over.
It has not been Brian Cowen's finest week.
At a time when there is massive public anxiety over the Republic's financial and banking crises, his media coverage has been dominated by whether he was hung over when he gave an interview to RTE radio on Tuesday morning.
Mr Cowen was at his Fianna Fail party's annual think-in - some have described it more as a "drink-in" - in Galway and after a busy day, he stayed up until 0300 BST amusing party members and yes, some journalists, with his mimicry, jokes and singing.
Unfortunately for him, his party handlers had agreed that he would do a radio interview the following morning.
Mr Cowen arrived late and sounded hoarse, congested and, at times, unsure.
Almost immediately the blogosphere and radio programmes were inundated by speculation that he had over-indulged the night before.
An opposition Fine Gael backbench TD, Simon Coveney, tweeted that the Taoiseach sounded "half-way between drunk and hung over".
The story went world-wide
Mr Cowen denied the allegation and accused Mr Coveney of stooping to a new low in Irish politics.
Ministers publicly rallied around their leader as Mr Cowen's long-whispered liking of a pint became a huge talking point.
But what was really noticeable were the dogs that did not bark, probably because they did not need to.
No senior opposition leader, in either Fine Gael or Labour, commented on Mr Cowen's alcohol intake, instead they focussed on what they called "the lack of hope he gave to hard-pressed taxpayers" in his interview.
As the hours passed the damage done to Mr Cowen's reputation became clearer, especially at a time when the Republic needs as much international goodwill as possible, as it struggles with its economic problems.
Yellow card
There was little surprise when he went live on RTE television on Wednesday night to say he was sorry for his radio performance and to state that it was not his intention to show disrespect to the Irish people.
He said he hoped the controversy would not damage his standing and again denied that he was half-way between drunk and hung over.
Unfortunately for the Taoiseach, his apology came after Foreign Affairs Minister Micheal Martin, in coded language gave Mr Cowen a yellow card and said lessons needed to be learned.
Brian Cowen is not popular; as finance minister many believe his fingerprints are all over the Republic's largely home-grown economic crisis.
This week's events will not have changed that.
Some Fianna Fail TDs are now wondering whether they might after all be better off with a new leader - a scenario that would have, until recently, been almost unthinkable.
He may be on a yellow card, but Mr Cowen can take some comfort from the fact that there is not exactly a queue forming to take over his place as Fianna Fail leader and lead the party to almost certain defeat in the next election.