IMC 'turned blind eye on murder': UVF victim's sister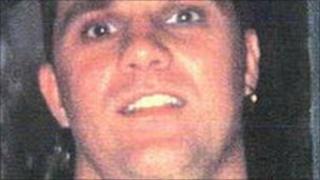 The sister of a man murdered by loyalist paramilitaries, the UVF, has accused the government of turning a blind eye on his "public execution".
Bobby Moffett, 43, was shot dead on the Shankill Road, in Belfast, on 28 May.
His sister, Irene, said his killers were "laughing in the face of it".
A report on Wednesday said Ulster Volunteer Force bosses sanctioned Mr Moffett's murder, although they were meant to be on ceasefire.
The report from the Independent Monitoring Commission (IMC) said UVF bosses could have prevented the killing but they did not.
Mr Moffett was perceived to have flouted UVF authority, the report said.
"When faced with what it saw as a challenge to its standing and authority, the organisation reverted to physical force."
However, the IMC said it hoped the incident was a one-off, and the report did not recommend any sanctions against the UVF or its political wing, the Progressive Unionist Party (PUP).
Speaking on BBC NI's Nolan programme, Irene Moffett demanded answers from the government and the IMC.
"Our whole family is very angry," she said.
"They have said Bobby's murder was sanctioned, but fell short of saying they were still on ceasefire.
"If there is a ceasefire and there are guns pulled out no matter what it is for, then there is no ceasefire."
She said the IMC and the government should go back to the report and tell the family that the UVF's ceasefire was clearly broken with Mr Moffett's killing.
Ms Moffett accused the authorities of turning "a blind eye".
"From the bottom of the (Shankill) road to the top of the road knows it," she said.
"It's (UVF) a law onto themselves... I do believe the government is afraid of them or they are working with them for an easy life to get on and do what they have to do."
Ms Moffett said the UVF bosses had instilled fear in the people of the Shankill and nothing was being done about it.
In its report, the IMC said: "The murder represents a serious backward step after a period when all paramilitary groups other than dissident republicans had moved decisively away from violence."
The report's authors added: "But it does call into question the reference in the May 2007 statement to becoming a civilian organisation and shows that when faced with what it saw as a challenge to its standing and authority, the organisation reverted to physical force."
The IMC said if Mr Moffett's murder was to mark the end of physical force, it would require "a more profound change of culture and attitude" from UVF leaders.
In spite of threats not to attend, more than 1,000 people attended Mr Moffett's funeral, which brought the Shankill Road to a standstill.