Pope arrives in UK for four-day state visit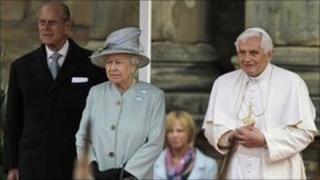 Pope Benedict XVI has arrived in Edinburgh to begin his first state visit to the UK.
He met the Queen other dignitaries at Holyrood House, including the Deputy Prime Minister Nick Clegg, and the first ministers of Scotland and Wales.
After a parading through the streets of the city the Pope will travel to Glasgow for an open-air Mass.
The visit is the first to the UK by a Pontiff since John Paul II in 1982.
'Controversial'
Some ticketed events during the four-day trip have not sold out and protests are planned over Vatican policies on birth control, gay rights and abortion.
The leader of the Roman Catholic Church in England and Wales, Archbishop Vincent Nichols, said the visit was eagerly anticipated.
"The Catholic tradition in this country is one of actually very profound loyalty to the person of the Holy Father," he said.
Prime Minister David Cameron has said it will be "a very special four days, not just for our six million Catholics, but for many people of faith right across Britain".
But the Pope's visit is controversial among campaigners who say they were sexually abused by Catholic priests as children.
They have accused Church authorities of a culture of secrecy and of not taking strong enough steps against abusive priests.
'Protests'
In Edinburgh, Presbyterians, secularists, and other groups are planning to protest, but police have said they do not expect large-scale demonstrations.
A 60-strong delegation from the Free Presbyterian Church, including its founder Ian Paisley, now Lord Bannside, are to hold a "peaceful protest" in Edinburgh to show their opposition to Pope Benedict XVI's visit.
In Camden, a traditionally Irish area in London, members of the Irish Women Survivors Support Network in the UK, will hold a silent, candlelit vigil in memory of those who suffered and died in Irish institutions run by religious orders.
"As women, what we have decided to do is to mark the Pope's arrival in our own way," said the group's chair, Sally Mulready.
"That won't be to go up to Westminster.
"We are going to have a silent vigil to remember the men and women in those institutions who didn't make it, who died young and who died without ever reconciling with the Church, with the religious orders in particular who inflicted so much barbarity and cruelty and abuse on them."
'Pop Idol'
On Thursday evening, the Pope will hold an open-air Mass at Bellahouston Park in Glasgow - billed as the largest organised event during the visit.
Several hundred people from Northern Ireland are expected to attend the Mass.
It will be preceded by performances from an 800-strong choir, Britain's Got Talent star Susan Boyle, and Pop Idol winner Michelle McManus.
The Catholic Church in Scotland had hoped to attract up to 100,000 to the event, but later reduced the capacity to 65,000 after a slow take-up of tickets.
Ticket allocations were reduced for the Pope's open-air Mass at Bellahouston Park in Glasgow.
A similar mass given by Pope John Paul II 28 years ago attracted some 300,000 followers.
'Cost'
The Pope will fly to London on Thursday night and spend the next two days meeting religious and political leaders, Catholic groups and holding prayers and mass.
On Friday, the Popemobile will parade from Lambeth Bridge to Millbank, and on Saturday, along Horse Guards Road, The Mall and on to Hyde Park.
The Association of Chief Police Officers has estimated the cost of policing the trip at £1.5m.
Lord Patten, the prime minister's representative for the visit, has said the total cost of the Pope's stay to the taxpayer will be between £10m and £12m.