£10m speed system for Belfast's Westlink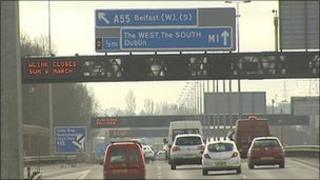 A £10m traffic control system to improve traffic flow on the M1/Westlink in Belfast is being launched later.
It will be the first time that variable mandatory speed limits have been applied to a road in Northern Ireland.
Sensors calculate the optimum speed for traffic across the carriageways and set a speed that is displayed on electronic signs.
Traffic control centre manager Brian Maxwell said this should improve safety on one of NI's busiest routes.
"The purpose of the system is to help us improve road safety and manage congestion," he said.
"There will also be other benefits such as improved journey reliability and improved air quality."